Hello!
I hope 2015 has been good to you so far. I can't believe we're into the fifth month already- nearly half the year! Time certainly flies.
I've been busy! I have two releases coming out this month. The first is out already (from the 1st) and is a medical romance: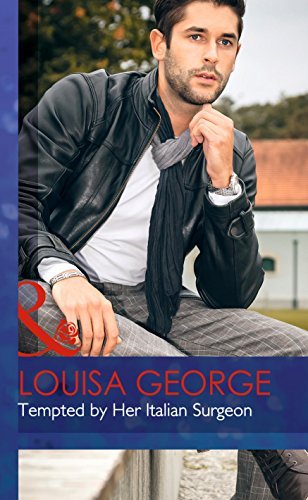 Tempted By Her Italian Surgeon
Here's the blurb: The doctor everyone's talking about!
When a deliciously naughty photo of paediatric transplant surgeon Matteo Finelli goes viral, social media expert Ivy Leigh is called in to discipline him. It will be a challenge…especially as Ivy is far from immune to Matteo's charismatic charm herself!
Dedicated doc Matteo doesn't care about social media policy – he's far more interested in uncovering the warm, vulnerable heart Ivy hides beneath her suit jacket. The chemistry between them is sizzling, but can he persuade ever-cautious Ivy to take a risk and give in to irresistible temptation?
So far I've been thrilled by the reviews it's been getting. Seems everyone's partial to an Italian hero!
Available to purchase from all good book stores including:
Now….drumroll please…I have an exclusive subscriber COVER REVEAL for my second May release-my first ever novella- (due out on May 29th!).
Ladies and gentlemen, I give you…
A DEAL WITH THE DEVIL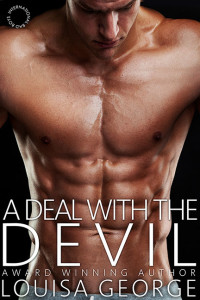 Isn't he absolutely blimmin' GORGEOUS?
A Deal With The Devil
This story is a bit of departure for me as I don't usually write ultra alpha heroes, but Rey was asking for his story to be told and I really enjoyed exploring the whole alpha world- plus, he's a boxer who owns a casino…who's not going to be fascinated by that? On sale from 29th May from…
Here is a wee excerpt….Set-up: Undercover journalist, Kate, has taken a job as a waitress at Rey Doyle's casino. She wants to get close to him to exact her revenge for her brother being beaten-up at an illicit fight club. Here she meets Rey for the first time:
Excerpt begins…
A frisson of change in the atmosphere, like a sudden electric charge, had her turning to the entrance where two beefcakes dressed in expensive-looking dark suits flanked a similarly attired man who … she inhaled sharply, her heart rate faster now. My God… Famously camera-shy, there had only been grainy photos of Rey Doyle via Uncle Google, but nothing had prepared her for what he was like in real life. As he came closer he loomed larger and broader, his coiled, energised presence filling the space. The man was tall. Big. And, unexpectedly, almost arrogantly … beautiful.
She'd been expecting a shorn bulkheaded Neanderthal, not … not a man with a riot of unkempt dark hair that was scraggly, yet somehow perfect. A face that bore scars of his boxing days, a nose bent out of shape at some point made him appear more rugged, more masculine, raw. Cheekbones slashed across his face, high and sharp, emphasising a strident jaw.
His hands were rough, but not unattractive. In fact, there was something about them that had her transfixed as he straightened his cuffs and secured gold cufflinks, those hands would save you, she thought, if you fell. A safe haven. Although, they'd ended many a man's career in one way or another; almost ended a few lives too, as she knew to her cost. She thought about turning away, she even thought about leaving, right now, but for some reason she went right on looking, taking him in, all of him.
As if he sensed her gaze on him he turned. Cold grey eyes caught on hers, a look of surprise flashing momentarily, then it was gone, banished. He didn't like to show emotion, Carlos had said, but for one tiny second she'd caught Rey Doyle off guard, and that fuelled her confidence.
For a foolish moment she noted that the gunmetal-coloured shirt he wore gave his eyes a deeper, more dangerous edge. Then she pulled herself together. She hadn't been a small-town journalist writing soppy copy for a year now; she was hard-hitting, serious and undercover. And while she was also a hot-blooded woman with fully working ovaries, she refused to find anything about Rey Doyle that she liked. Nothing would distract her from this story. She hesitated to call it revenge: he would just be getting what he deserved.
Yet, as her eyes met his, a rush of something she couldn't describe chased through her. His easy stance screamed confident and calculated, but a keep-out sign might well have been tattooed on his scarred forehead. There was caution there, mistrust- an altogether different vibe, guarded. And still her heart jittered with something akin to excitement.
She put it down to the adrenalin spike of being in her adversary's lair.
(End of excerpt © Louisa George 2015)
CONTEST & GIVEAWAY
Don't forget my 'Out in the Wild' competition! Send me or message me on Facebook with a photo of one of my books in the wild and I'll put you in a draw for a copy of one of my backlist books! PLUS! Because I have two books out this month and I feel like celebrating- I will send one subscriber (drawn from the subscriber list)- one copy of a book from my backlist- your choice! I will announce the winner in a week or so.
As always, I love to chat with readers on Facebook twitter or through my website www.louisageorge.com -so please pop by anytime and say hi!
Until next time, Happy reading!
Louisa xx
Copyright © 2015 Louisa George, All rights reserved.
This post was originally sent as a newsletter to my subscribers- if you want to be first to hear my news subscribe to my newsletter…scroll down THIS page and enter your email addy in the subscribe box!