Postcard From Portobello with Love xx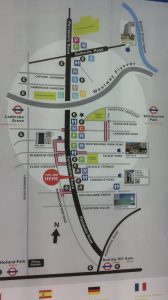 I lived in west London for 7 years between the ages of 20 and 27. It's where I trained to be a nurse, where I met my husband and where I had a lot of adventures! Our most favourite place was Portobello Market where we'd go every Saturday (if we managed to have the day off) and peruse the bric a brac stalls, eat amazing pad Thai from the street vendors and go to the pub (which isn't there any more but is now a gin bar!) and do the Guardian newspaper crossword over a pint.
I set my Something Borrowed series there because the atmosphere is very much one of a community and I really wanted to capture that supportive communal feel in my stories. It's a place rich in vibrant cultures and people, with lots going on. I revisited it earlier this year and it still has that magic! The Portuguese cafe/bakery is still there selling delicious Pastel de nata (in Book 4), the market is still as popular with locals and tourists and the atmosphere is still the same as it was 25 years ago. In the movie Notting Hill Hugh Grant walks through the market over four seasons (showing time moving on…) and it's a lovely scene showcasing the variety and lovely friendly place it is: Clip below from YouTube: (And yes, you'll have an earworm with that song now too!! Sorry, not sorry)
.