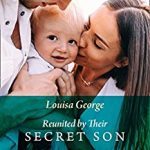 Reunited By Their Secret Son
It started with one night…Will it end with them becoming a family?
Sophie Harding can never forget her sizzling encounter with gorgeous stranger Finn. How can she, when her beloved little boy is a daily reminder? And she can't forgive Finn for disappearing without a trace afterwards. But she's shocked to come face–to–face with him at her son's physio appointment, and sees how much he's changed. Could this be their chance to finally become a family?