Crochet is the new black!
Did you know that crochet is the new black? Everyone's doing it and loving it! The choices of yarn are growing and people are wanting to get back to that 'homemade' feel. It's all part of the 'maker movement' that artists, musicians and writers are embracing.
It's the first day of spring here in New Zealand and the sun is shining, giving a lovely warm glow to everything. That hasn't been the case for the last few months…winter had definitely come!! I've been very lucky in that I've done lots of traveling and managed to keep away from the cold for a while. But on those dark cold nights I've been at home I've been very self indulgent and finally got around doing something I've been meaning to learn for years- crochet! I've watched a ton of YouTube videos, my favourite teachers on there are Bella Coco and Jayda In Stitches  who I watch over and over so I get things right (or wrong as the case may be!! LOL).
Isn't she lovely? So nice and friendly!!
My first attempts have been wobbly and wavy but I'm definitely getting better! I've managed a couple of scarves, a blanket and lots of hats (if you stand still for long in my house you'll get a hat!). We go on a group holiday for a week once a year and myself and two friends are trying to crochet hats for all 35 of us!! Just a bit of fun! Trying to match the colours to a particular thing the wearer is interested in: football teams/cricket/ etc… Here are just a few of them: L: is my hat, I just love the pink and grey combo! R: Blue and white stripe for my Manchester City loving son! Bottom L: A cricket themed hat for a New Zealand fan! Bottom Right: Red, white and blue for my boy who is going to live in England early next year.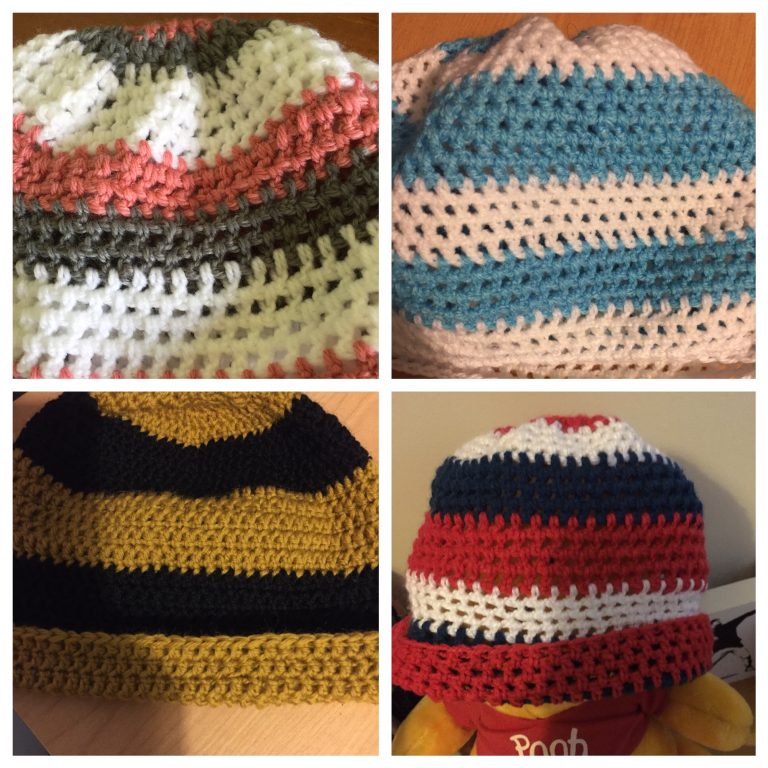 Don't look too closely! There are beginner mistakes!
Currently I'm making a beach bag using up all the bits of yarn leftover from the blanket. I've got a way to go yet but I'm loving all the stripes! I've bought some navy buttons I'm going to add to the straps. Question: do I use one block colour for the straps? If so, what? I'm thinking either the dark blue or the denim one. Or do I do another stripe?
Do you have a hobby that keeps you entertained? Do you love crochet or knitting? What are you making right now?