New medical romance cover reveal!
I'm what you call a HYBRID author…this means some of my books are published with a traditional publisher (Harlequin Mills and Boon and Harper Collins) and some of them I publish myself.
For the ones I self-publish I get to oversee every part of the publishing process, but for the trad published ones I have little input into the title, back cover blurb or cover. So it's always a lovely surprise when I find one of my upcoming releases online and I get to see what's been chosen for me.
The other day I was trawling through Amazon and I came across my May 2018 release: REUNITED BY THEIR SECRET SON and I was thrilled with the cover! So, without further ado…drum roll………. ta dah! Here it is……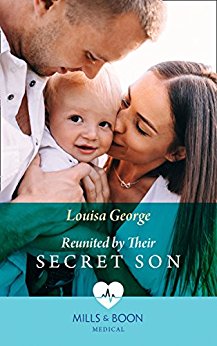 Isn't it gorgeous?!?!?!????  I LOVED writing this book and it's quite an emotional ride but I was so happy to give Finn and Sophie a very happy future!  Here's the blurb:
It started with one night…
Will it end with them becoming a family?
Sophie can never forget her sizzling encounter with gorgeous stranger Finn. How can she, when her beloved little boy's a daily reminder? And she can't forgive Finn for disappearing without a trace afterwards. But she's shocked to come face-to-face with him at her son's physio appointment, and sees how much he's changed… Could this be their chance to finally become a family?
The eagle-eyed ones amongst you will recognise Finn as Callum Baird's brother in THE NURSE'S SPECIAL DELIVERY (released December 2017). So, if you remember reading about Finn's accident that claimed his leg and almost his life and you got wondering how he was doing, well….this book is available in May 2018. Pre-orders available on Amazon or mark your diaries now!!
What do you think? Do you like the new Mills and Boon covers?